5.

Analyzing The Host Data¶

Once you have added data to Cyber Triage® from one of the collection methods previously listed, then analysis begins. Your goal during this process is to review the data to make a conclusion about if the system is compromised and how badly. Cyber Triage® will help you as much as possible.
5.1.

Threat Scores¶

As data comes in from the remote host, file, or disk image, Cyber Triage® will start to analyze it and assign a score:
Bad: The item is believed to be bad because several malware scanners thought so, it is on a bad list, the user manually identified it, or some other low false positive-based approach.

Suspicious: The item has characteristics that make it anomalous or similar to what is seen during an attack. The approaches used to identify these items have false positives and Cyber Triage® is going to need you to make the final decision.

Good: The item was part of a hash database of known items, part of a Good List, or the user manually identified it as good. This score is for items that are OK and not associated with an attack.

Unknown: No score was assigned to the item.
Your main responsibility is to confirm the Bad items and decide on the Suspicious items. You can also review the other items.
5.2.

Interface Overview and Workflow¶

When Cyber Triage® starts, you'll see the Dashboard that displays the number of Bad and Suspicious items, the number of background tasks, and other general session information.
As you can see from the interface, there are three sections:
The left-hand side menu allows you to navigate between the dashboard and the various data types that were collected.

The middle part displays the selected data type

The right-hand side displays a timeline of the items that have a Bad score.
The middle section for non-dashboard selections has a table on top and a set of tabs on the bottom. The table shows the items of the selected data type and the bottom shows details that are related to a selected item.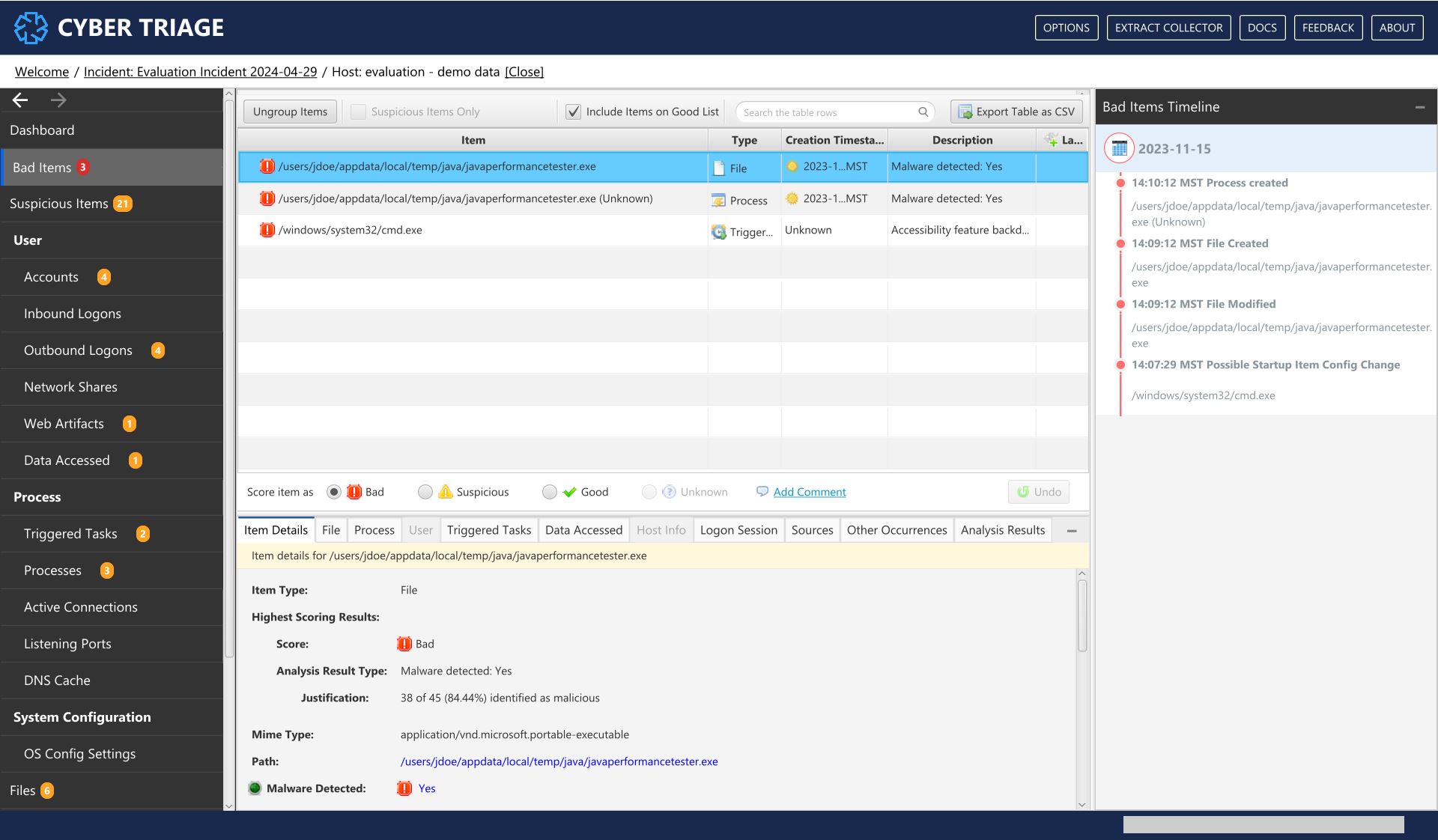 As you navigate around the UI investigating the endpoint, you can use the arrows in the upper left to go back in your history. This is useful when you see something suspicious, click around to investigate it, and then want to go back to your original place to continue your review.
5.3.

Marking an Item as Good, Bad, or Suspicious¶

When you select an item in the table, you can choose to change its score in the area below.

Bad: Use this score if you know the item is related to an incident and want it to be reported on.

Suspicious: Use this score if you want to make sure you review it again in the future. This can be used as a bookmark for your workflow.

Good: Use this score if Cyber Triage® marked and item as Good or Suspicious and you want to override that score because you know it is not related to an incident.
If the item is initially Suspicious, you can change the score to Bad if it is in fact bad or mark it as Good if it was a false positive. Changing a Suspicious item to Good or Bad will decrease the number of suspicious items listed on the dashboard and the counters on the left-hand menu.
You can use the Add Comment button to store a comment for the file. This will get included in the final report and be visible to future investigations that come across the same item.
5.3.1.

Keyboard Shortcuts¶

If you would rather not use the mouse and prefer keyboard shortcuts, you can also apply scores as follows:
Keyboard Shortcuts

Keys

Meaning

SHIFT + B

Bad

SHIFT + S

Suspicious

SHIFT + G

Good

SHIFT + U

Unknown

SHIFT + C

Add Comment

CTRL + Z

Undo
5.5.

Viewing Bad and Suspicious Items¶

Items with a Bad score are found in the Bad Items menu, as shown in the previous section. These items were found from automated analysis or manually identified as bad. The rows in this table are grouped (typically by path) and have columns for:
Type: What type of item was found to be a threat.

Description: High level description of the item

Malware: Indicates if an executable has been scanned by the external analysis service.

New: threats seen for the first time on this host have an asterisk icon.
What Should You Do: You should review the data here and confirm that it is indeed bad in your environment. A program that gets flagged as malicious could be normal in your environment. If it is, mark it as Good and consider adding it to a Global Good List.
5.6.

Exporting Files¶

You may want to export files from Cyber Triage so that you can share them or analyze them in other tools. You have two ways of doing this depending on what kind of file it is.

If you want to extract a single file or folder that you found from one of the data types or file explorer, then simply right click and you'll see two "Export File" options.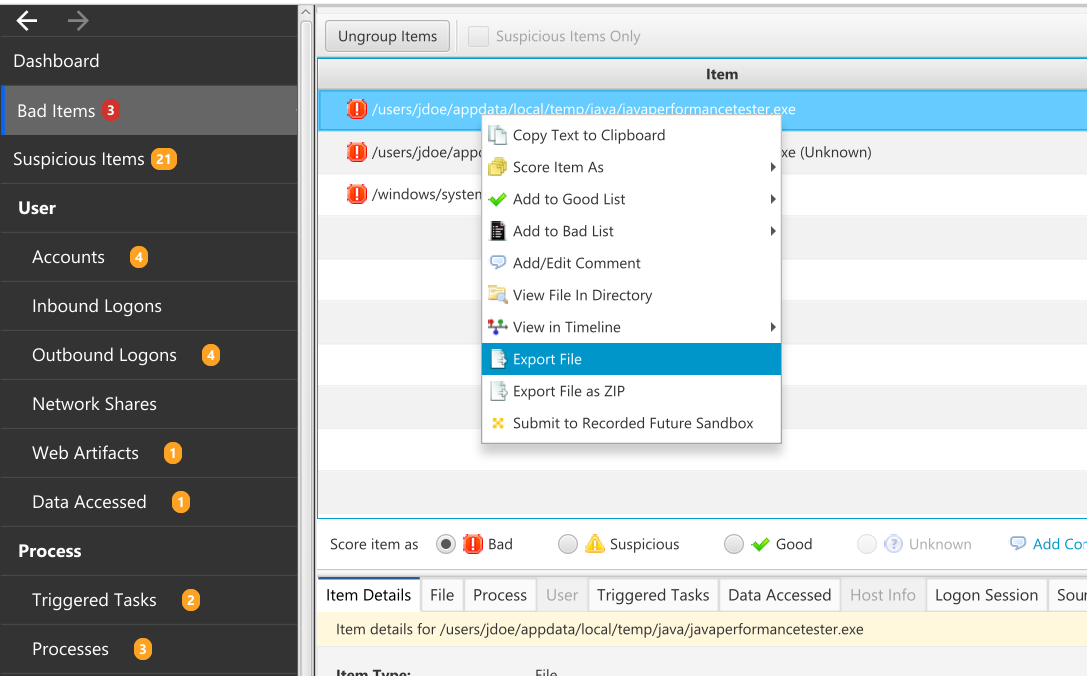 The "Export File" will save the file in its original form. The "Export File as ZIP" will place the file into a ZIP file with the password "infected" (without the quotes). The ZIP file is useful to prevent malware from being quarantined or deleted.
If you want to export all source files (such as registry hives, event logs, prefetch files, etc.), then go to the Collection Details panel. See Collection Details Panel.
5.7.

Analysis Scoring Techniques¶

There are a variety of analysis techniques that Cyber Triage® uses to score items as bad, suspicious, or good. This section outlines some that you may encounter the most. These are not used in the free Lite mode.
5.7.1.

Executable Analysis¶

As previously described in Adding a Host, Cyber Triage® uses ReversingLabs to analyze executables for malware. If you configured the session to upload file content and/or hash values, then Cyber Triage® will know the malware results from many scanners.

Scores are assigned based on ReversingLabs's proprietary algorithms that combine results from many scanning engines as well as their own techniques.

You can get the malware details by going to the File tab at the bottom and choosing Scan Results.
5.7.2.

Document Analysis¶

Office and PDF files are common vectors for phishing attempts to gain initial access to systems. Cyber Triage has basic analysis methods for detecting suspicious documents. These files are not uploaded to ReversingLabs, like executables can be, because they may contain sensitive information.

Cyber Triage will review Office and PDF files and mark them suspicious if they have:
Automatic actions that require no user interaction (such as those that occur when a document or page is opened)

Scripts (JavaScript, Macros, etc.) with certain actions.
Please contact us for a more specific list.
5.7.3.

Previous Incidents¶

Cyber Triage tracks what items you manually scored as Bad and will ensure that they are marked as Bad in future hosts. Items scored in versions prior to 3.7.0 will not have their score propagated. The propagation is done via an exact match algorithm, which often relies on file hashes. For example, if a file with the same name as a previously Bad item is seen again, then it will not get scored if the hash values are different.

If you are seeing false positives from this feature (because an item is no longer considered Bad), you can suppress future items from getting the Bad score by scoring it as Good in the current incident. Cyber Triage will then prompt you to see if you want to stop automatically scoring it in the future.

You can see the list of suppressed items in the Options panel under "Past Hosts".
5.7.4.

Malware Sandbox Analysis¶

Cyber Triage® integrates with the Recorded Future Sandbox so that you can get dynamic analysis of a suspicious EXE or document. The file will be run on a remote system (managed by Recorded Future) and you will get a report of what processes were created, files opened, etc.

Note

Any file submitted to Recorded Future for analysis will not be available to the public and will remain in the Cyber Triage® Recorded Future enclave.

To use this feature:
Right-click on a file and select "Submit to Recorded Future Sandbox"

Agree to the Recorded Future Sandbox Privacy Agreement

Click the "Details" link next to Online File Reputation section on the main Dashboard.
5.7.5.

Yara Rules¶

Cyber Triage will score files as Bad if they match a Yara signature. Refer to Configure Yara Signatures for details on configuring Yara rules, but the basic idea is that all rules will go into a single folder.

Each time a session is ingested or a Yara rescan is initiated Cyber Triage® will take all .yar files in the above folder and compile them into a single compiled Yara file.

If a file matches a Yara signature and has not already been marked as malware, then it will get a Bad score and the rule name will be specified.

For memory images, the same Yara rules will be used by the yarascan Volatility module. Documentation to the yarascan Volatility module can be found here: https://github.com/volatilityfoundation/volatility/wiki/Command-Reference-Mal#yarascan
5.7.6.

Good and Bad Lists¶

Cyber Triage® ships with some basic programs and file names on its default Bad List that will cause files to be marked as Bad. And items that will be marked as Good. Good List entries help to fix false positives that could be triggered by your environment.

You can expand these lists based on your threat intelligence. See Configure Bad and Good Lists for details.

In addition to the automated scoring, many of the tables will hide items on the Good List from you, but you can choose to Include Items on Good List.

5.7.7.

Country Resolution¶

IP addresses and host names will be resolved to a country using GeoLite2 data created by MaxMind. There should either be a column in each relevant table with this data or it is available in the Hosts tab at the bottom of the screen.
5.7.8.

Dynamic DNS¶

Cyber Triage® will mark hostnames as suspicious if they are part of a dynamic DNS setup, which can be used by malware to avoid network-based detection. If a hostname uses dynamic DNS, then it will be marked as Suspicious.

Cyber Triage® ships with a set of Dynamic DNS providers that it will detect. You can add more providers by going to Options, Dynamic DNS. The domains hosted by dynamic DNS providers are detected using the DNS server for the domain. To add a provider, you add the DNS server names.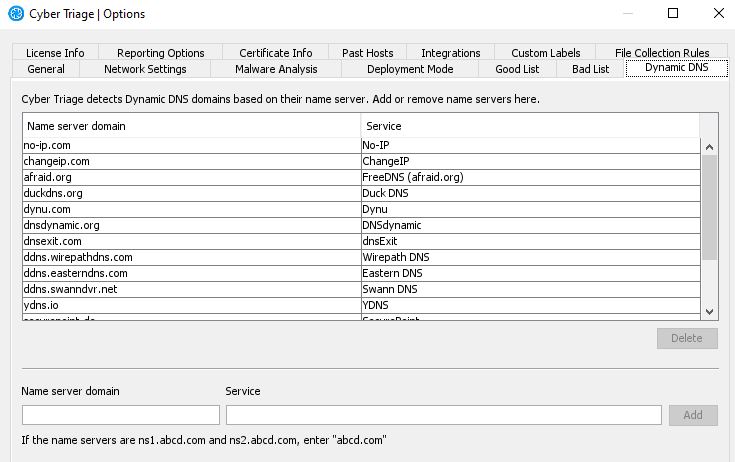 5.7.9.

Ransomware¶

Cyber Triage® has several ransomware-specific detection techniques. Ransomware incidents are much like any other incident where attackers laterally move through an environment, but the difference is on their final action (where they encrypt the data instead of just stealing it).

The ransomware-specific techniques include:
Detection of ransomware notes based on known naming patterns

Detection of possible ransomware notes based on heuristics

Detection of data recovery techniques disabling, such as Volume Shadow and Microsoft Backup
Cyber Triage® focuses on making sure you quickly determine when the encryption started so that you can work backwards to determine how ransomware was deployed.
Cyber Triage® does not have decryption features.
5.8.

Data Types¶

We will now review the types of data that Cyber Triage® collected. The data types on the left hand side are organized by user-oriented data and malware-oriented data.
5.9.

Analysis Views¶

An alternative way of looking at the collected data is by date or file system location. Cyber Triage® supports both of these views.